My More than Me Mission: Entry 3
Today was even better than yesterday! I absolutely love it in Liberia and after today I know that I will most definitely go back to America with a completely different outlook on so many aspects of my life. And I've only been here for 2 days :) before I start, I need to apologize for misspelling some words in my last post, like "firms" Instead of "girls". I'm writing in my iPhone and not proof reading really because I don't want to waste any time here ;) I'll correct it all when I get home I promise :)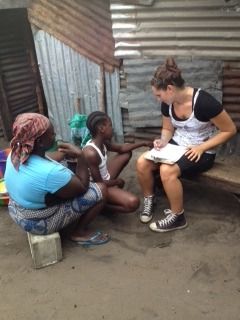 It's 10:20 on Tuesday night here, and I wanted to make sure I wrote about my day before I went to sleep. The More Than Me website (www.MoreThanMe.org) does not have the stories of all our students on it, so today Katie had Jen and me go into the West Point slums where the girls live and ask them and their families questions. I was hanging out in their houses! THIS is what I wanted to do most here and I did it on day 2!! Amazing!
Our group split up today because there's MTM camp on Mon Tues & Fri so Tues & Thurs are our days to do other things. Macintosh and Cyrus (his friend, a mtm worker, and my bodyguard haha) took us on their bikes to the slum, and the ride there was fun, seeing all the little stands with random merchandise on it. Shoes hanging from an umbrella with string, guys walking around with 50 sunglasses on a board, and kids selling bananas on a huge bowl on their heads are the ones that stick out to me, but there are also clothes, fried food, jewelry, dresses, and other things being sold all over the place. Today I saw 2 white people other than us More Than Me workers, there was an albino Liberian man that we thought was American but we realized he wasn't when we passed him. We had to exchange our money into Liberian money, where $1 in US dollars is $77 Liberian dollars. As we got closer to the slum I noticed a difference in the "houses". They call them their rooms because that's what they are: literally 1 room for a whole family. It was like a maze or a labyrinth of houses where there were really right walkways between them and there were corners everywhere because every tiny room is in a square building. I'll figure out a better way to describe it when I'm not so tired :)
So we got off the bike and walked to Macintosh's house in the slum. He had 1 room with an actual bed (most have a mattress on the floor) and a dresser. I don't know why but I didn't think he lived exactly in the neighborhood of the girls, so it was interesting seeing how he really likes. He is a GREAT guy that helps More Than Me with absolutely everything that he can. He knows every student and family (we have 100 students) and has invested so much time, effort, hard work and love into this. So he pulled out papers for Jen and me to ask the students and families. He asked us to sit outside his house with his woman neighbors and their kids while he made a bunch of copies of the questions for us to use. Jen has been here 2 weeks and knew a couple of the kids already, so the kids were comfortable with her from the beginning. One girl yelled my name the second I walked in the door which was a great feeling! So after a couple minutes the other young kids warmed up to me (about 5 kids around 3). I pulled out my Ithaca frisbee again and they loved it! Macintosh's son got so excited when he saw it pop open! I had never thought of that as being the exciting part but I love that he loved it ! Then I took out my phone to take videos and pictures and they got so excited! They know that means I'm taking pictures so they all pose and get together, and the second I take it they rush up to me and want to see it. They try to see it so badly that they try to pull the phone out of my hands to really look at it but I just said no and they didn't. But they saw me swipe my finger to look at the other pictures and videos and then they did that! Imagine 5 little kids and a 7 year old (Macintosh's daughter who's in a ton of our pictures) trying to touch and look at your iPhone :) Crazy! But fun :) I couldn't help but think that I'm bringing that phone back to Jersey, and it's been in the hands of our students in Liberia! Pretty cool!
Cyrus and me were together all day so that i had him to watch out fir me and "translate" for the families when i talked to them. They do speak English but they have thick Liberian accents, and a lot of them spoke very quietly unless they were yelling at kids or neighbors. So Cyrus helped me have them answer every question so the best of their ability. Some of the words I said they did not understand, so he would reword it. Like they don't know the word "personality", cyrus said its because they didn't go to school. So I would list things like if their daughter was funny, shy, loud, playful, etc. I felt VERY safe with Cyrus. He always held my backpack and iPhone if I wasn't using it because he said it was safer for me.
When he came back we went to our first home meeting. I guess that's what I'll call it, it was more like an interview but that's too formal. Anyway, we would ask the student about 10 questions and then ask her mom or Auntie (guardian) about 20 questions. The girls questions were about what their name age and grade are, their favorite things, and what they want to do in the future. The answers I got almost every time out of the 10 girls I talked to were they want to be doctors. That way they can make money for their families and help all of the sick people in Liberia, especially their families. Luis Patrick who is 7 said she wants to be a lawyer though! Her mother wants her to be an international lawyer to defend people all over the world. Her neighbor joked that her brother would end up in jail and Luis would be his lawyer! It was cute :) Their favorite food was usually rice. Their favorite subjects were math (they pronounce maff) and English. One girl named Princess Keh that's 12 that said her favorite class is Bible class! I liked that! I gave her a high five and told her I love bible class too! The questions we asked the mothers and aunties were about how they make money, what they make each month, and what they wanted to tell people in the USA, and a bunch more. Most of the answers were that they sell things on the street to make money (fish, food, etc), that they don't know how much money they make a month because they spend money right when they make it, that their kids love playing when they are not in school, that they go to Pentecostal Christian church every Sunday (thats my denomination too!) , and that none of their houses had electricity or more than 1 mattress. And most of the moms said that they want their girls to go to school to "be a good person and be smart". I liked that they understood the value of school for their children, that it would give them confidence, teach them things like not fighting, how to be creative and have good influences, and overall become a better person that would contribute to their society.
All of the moms wanted to tell Americans that support More Than Me "THANK YOU so much for helping our girls go to school" and most said "May God bless them. I do not have anything to give them to thank them for their help but God will give them blessings."
When I was asking the questions the whole area was around us, staring listening watching and chiming in. There were always at least 10 people around us, and at times there would be little boys sitting right next to me, a teenage girl literally breathing on my neck she was so close to me, and pregnant teen girls. It was definitely entertainment for them. In the big inning I wished that were we're alone with the girls to ask more personal questions about their lives before school, but then I completely understood why the extended family and neighbors were all there. I noticed that if the girls did not answer right away the men and women would answer for them, but I wanted to hear it from the girls, like what their favorite games are and what grade they are in, so I would ask them again to check before I wrote things on my clipboard (i felt too official with a clipboard but I did need it).
At the end of the questions I had to take pictures of the student, her room (I'll just stop calling it a house), and her family. This was a good excuse to see their rooms. One of the questions was "is their house tidy" because I had to put my responses to their family living conditions and needs on the question sheet. I did not know how to answer that at first!!! They were all concrete rooms so tiny with dirt floors, a mattress on the floor, and usually piles of clothes and newspaper on the wall. But in time I was able to see what an organized room was and an unorganized one was. There were also flies and bugs EVERYWHERE. Liberians did not even notice it or flinch when it was on them or by them. I saw a girl about 3 eat one that landed on her lip. My last family visit was absolutely infested with flies more than any other. That family had more people around than any other, and the people were staring at ME instead of just being there to listen to the questions. It was ok because every so often I would look up and smile and say hi to them. By the end of that one (after 10 families) I started feeling pretty drained (we did it from 11-4) and when it started drizzling I decided I was good for the day. I was taking pics with my iPhone and we had to get home by motor bikes with just backpacks. So we met with Macintosh and Jen, and went back to Mac's house until the rain stopped. Regina (who is SO fun and has the biggest smile all the time) walked with us and we held hands and I twirled her around when we heard music. She asked me again if I had kids. Then when we got to Macs we sat under his "porch" and I remembered I had speakers to dance all along, but I wouldn't have taken then out in the middle if the slum anyway. So I turned on music and we danced! She had so much fun and I loved it! I love how the smallest things make them so happy.
Cyrus and I rode home on his bike and we had a nice talk about why he works for More Than Me and just about getting to know each other better. He said that a lot of the people said I talk so fast haha! I used their accent a lot when talking to them, and i noticed it definitely helped. Even using their phrases, like instead of "how old are you" they say "how many years".
At night Jen and I walked to a store to get her a chocolate pastry. Im loving the other volunteers! I'm bonding with them more and more and they are all such good people, hard workers, and very creative and GREAT with the girls!
Then later that night Katie and I went on a run on the sidewalk outside our compound! That was cool! There were bumps and holes so I payed close attention, and Katie was very careful about not going where there were not a bunch of people around. We went to a free gym in a gated compound where a bunch of volunteers stay that she was at one time, and it was a really tiny gym but did the trick :) I ran in a treadmill that had everything on it written in Chinese! I figured it out though :)
When I was lifting weights I listened to the song "Savior" by Worth Dying For and it really motivated me!
Here are my favorite lyrics:
"We stand up, we rise up, to give up our lives for this. This burning, this passion, to burn a lifetime for you."
"Savior send your presence to this dying world. We're needed to breath it, so come and release your fire again."
It is a Christian song by an awesome Christian rock band, definitely listen to it. It's kind of screamo but not :) :) it reminded me that I'm standing up for what I believe in here and bringing Jesus to the girls. And that we need God to send his presence to Liberia and all over the world, "this dying world".
After that sing came on I put down the 15 pound weight and started lifting a 20 pound one because I thought, what are the girls I visited today doing right now?? I'm doing this one for them!!!
Then Katie and I went for a swim in our beautiful pool. It's nicer than the one I lifeguard at! There are cabanas around it and it's so clean with nice new tiling and just really pretty. We were swimming in the dark (with the complex lights on) and then it started to rain so that was fun :) I had rice and chicken and fish with" fried greens".
By the way, last night we went to a really nice lounge called Tides that was overlooking the ocean, we had a More Than Me meeting there. And then we went dancing at a bar called Exodus! It was soooo fun and we stayed for about an hour and a half :) I love dancing and the music was really good, like club music in the US but all with Liberian accents! We actually watch Liberian music video channels here and they are fun songs :) they are all about money, girls, and dancing haha kinda like the popular music in America unfortunately. There's a sing called "Chop my money" and "Azunto" that have dance moves that everyone does here it's great! A couple Liberian girls danced with me lady night and that was awesome because they taught me their cultural moves :) They weren't as crazy as I imagined them to be, it's a lot of small feet and hand movements that I think I did pretty well :) When I would do what they did right all the other women and their friends would laugh and smile and cheer for me. I think they were laughing with and at me at the same time :) It was a blast! The men were respectful surprisingly. I stayed with Mac and Cyrus the WHOLE time so I was fine and if a guy got too close I would move away and they would move away, which was nice instead of them being forceful or not getting the hint. A guy came up to me and said that I was the "fastest" dancer in the whole place, but I'm still not sure if that was a good or bad thing hana!
Just so you know I took notes on each family visit today and a million pictures so ask me any questions about it that you want and I'll definitely give more details about it in person.
Thanks so much for reading about my More Than Me mission!
- Grace