Obama's Effectiveness as a Politician: Personal at First, Public in the End
The famous Italian philosopher Niccolo Machiavelli once described what makes up the image of a politician in his political treatise The Prince. He stated that when it comes to being a politician, "everyone sees what you appear to be, but few experience who you really are" (Machiavelli, Chapter 18). What Machiavelli is implying here is that humans have a knack for the apparent aesthetic. Here's what I mean when I say "apparent aesthetic."
When you meet somebody for the first time, you have the knack to pick up an impression of them by their apparent characteristics—traits that hit our ears and eyes that cause us to make first-hand judgments about who that person may be or may not be. Things like facial expression, tone of voice, movements, and posture are a few of the things that define the apparent aesthetic.
For politicians, the apparent aesthetics matters just as much for them as they would for any other person (take the first televised debate between John F Kennedy and Richard Nixon: Not only did Kennedy's debate skills trump that of Nixon's, but his good looks, smooth vocals, relaxed demeanor and chic dress suit blew Nixon's pouting, sweaty, twitchy self out of the water). But there is one special thing that politicians add to their ways of making a first impression: vocalizing and displaying their personal lives and private matters.
But isn't personal life and matters far from apparent? Isn't that getting to know the personal lives of a politician actually "experiencing" the individual rather than just seeing them on the surface? Indeed, everyone's personal life and private matters contain deep truths, anecdotes and information about that individual that transcends his outer appearance. Therefore, we could say that we have the ability to "experience" every facet of the politician and personalize with him at cordial levels and that politicians can go beyond the apparent aesthetic by reaching out with his rawest personality.
Or could we not?
Politicians need to make themselves seen. They need an image. To create that image, they must frame certain aspects of themselves to captivate the attention of the audience. This means that politicians are able to frame their life stories and personal affairs, utilize the events that are most relevant, relating, shocking, amazing and shape their identity as not a person, but as a politician in relation to the events that are frames. The framed events further feed the politician's apparent aesthetics, hence, it can be concluded that personal life is yet another trait people can roll by to judge someone first-hand rather than "experiencing" that someone as a whole.
But do politicians display and vocalize their personal lives to prove their effectiveness all the time, even when in power? Not quite.
Once in power, a politician must face many soul-crushing realities—realities that, as said by Machiavelli, force the politician to "change his conduct with the times." When there are enormous matters at hand, numerous problems waiting to be tackled, and issues waiting to be solved, then there is clearly is a much bigger world than the politician's tiny world. And when there are more things in the world than you, of course you must let go part—sometimes fully of yourself in order to cater for it. At that point, personal life matters less, charisma is almost overlooked, and then a new trait comes in that determines the effectiveness of the politician: policy. When in power, a politician's actions speak much louder than their sugared words.
To see when personal lives matters and when they do not, let's look at Barack Obama before and after presidency.
Before presidency, Barack Hussein Obama II (full name) was born by a white mother and an African father (who, by the way, was a former Muslim). He grew up in Hawaii, raised primarily by his grandparents, both of who had somewhat decent to low-income jobs. Obama fought for and successfully got admitted into Hawaii's best primary and secondary academies. His hard work in his childhood years earned him a scholarship to study in Harvard Law. More success came his way in Harvard, for Obama was offered to work in prestigious clerkships. But Obama willfully turned down their offers to work in a Housing and Employment protection Law Company in Chicago instead. In 2004, his work as a lawyer and lower-class protector earned him attention to run for senate, which was a position that he won. Obama served as a representative for Illinois in the U.S. senate for four years and then used his experience of those four years in his campaign for president in 2008. But despite only 4 years worth of government experience, Obama wins the 2008 presidential election, with 303 electoral votes against the 235 votes of his Republican rival, John McCain.
Now, when looking at this brief biography, we can see what has been framed to shape Obama's image and identity and to determine his "effectiveness" as a politician. But according to the National Election pool of 2008, one the most major aspects of Obama's personal life that attracted his vote was his race and his modest social background. 95% of the voters were non-white; these non-white voters believed that electing Obama would improve racial relations and reveal the fact that America indeed does not discriminate their leaders. As for Obama's modest social background, that won the hearts of the American youth; 66% of Americans under the age of thirty voted for him.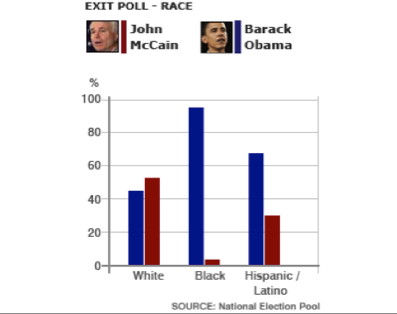 Now let's examine Obama in power:
The current circumstances of America and the world are too difficult to list at whole. Obama's presidency is amidst by far the toughest issues of American and global history: borderline financial depression, nuclear conflicts in the Middle East, overwhelming flux of immigration, high unemployment rates, lack of healthcare and so much more. Because of this, Obama made choices that go against his own personal background, causing him to change completely with the times. For example, when it came to healthcare, Obama promised affordable, universal care for all. However, when he passed his medical bill in March of this year, it basically called to penalize those who would not buy health insurance. Here we see that Obama as not the modestly raised individual who faced tough economic situations in his youth, but as one who is inflicting tough economic situations himself.
It's July 2012. Our next presidential election lies only four months away. Obama is back same seat as he was four years ago, but as a different person. Machiavelli perfectly describes why this difference in Obama exists: "men rise from one ambition to another: first they seek to secure themselves in attack, and then they attack others" (The Prince, chapter 46). Obama already has been washed over by power. Therefore, he will know exactly what new things he will frame. He knows exactly what new things he will need to display to show his effectiveness as a politician. His upbringing, however, is now far from the picture.
Photo courtesy of http://cache.boston.com/universal/site_graphics/blogs/bigpicture/obama_1...